ARTIST BIO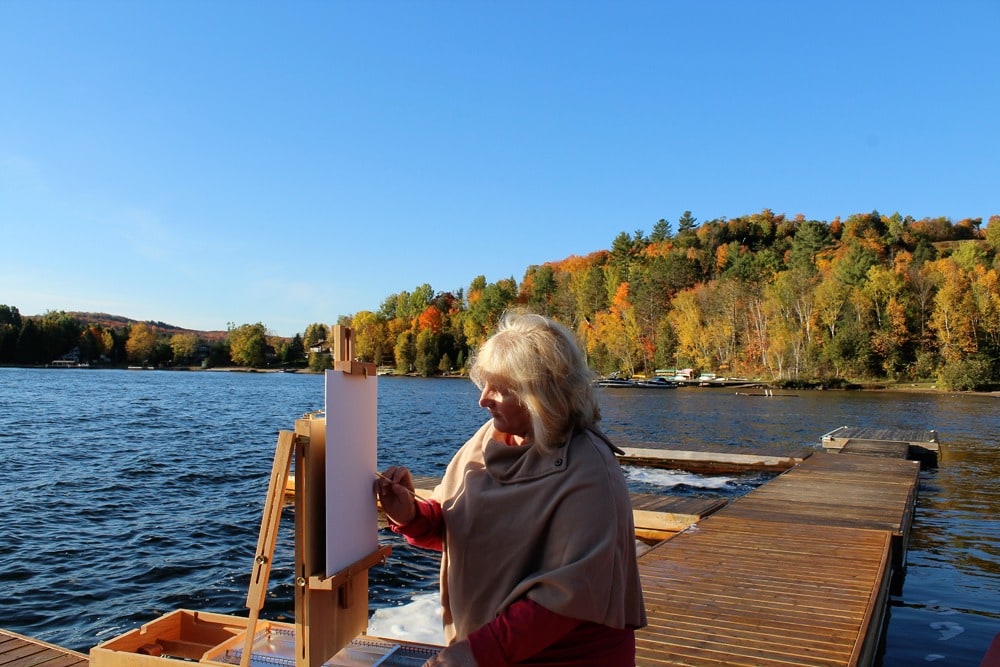 Lynda Moffatt
Painting on Site in Haliburton Highlands
      Achieving abundant awards throughout her lifetime, artist Lynda Moffatt is the 3rd generation of her family in the arts.  Her goal is always to honour and give legacy to her artistic ancestors, her father and her grandmother.
  The artist grew up in Southern Ontario working with horses, eventually venturing down to Florida to be a Veterinary Technician.  Later, she worked as a gallery manager, learning the business side of the art world while studying oils under Harold Cooper of Wesleyan University, Ohio, who was the founder of The New Albany Arts Council. Lynda completed several courses in oils, portraiture, multi-mediums including en plein air painting while studying Art Business.
     Highlights from her creative endeavours include: receiving a grant to document, to scale, a sunken 3-mast schooner for the Wisconsin Shipwreck Museum, while diving the wreck and also replacing the propeller as part of her research, rewarded by inclusion in U.S. history books; returning to Canada and creating public murals throughout the City of Windsor with the Windsor Art Studio and a team of fellow artists; restoring public murals throughout the Town of Essex with her husband, Kevin; ultimately, being commissioned to research & paint a mural for Fort Malden Museum, now on record as a labour-of-love and the first of its kind in a Canadian parliamentary building. The mural - The Rebellions 1837-38 - was quite a joyful undertaking while working with a designer from Ottawa and Parks Canada.
     Most recently, Lynda was juried-in for the featured, International Artist-of-the-year, 1 year Online Residency with Camelback Gallery (Aug. 2020 - Aug. 2021). A wonderful highlight was being featured as a Co-Author in the international bestselling book Pursuit!365, released on International Women's day of 2021,
with proceeds to benefit those in need of affordable housing.
The 1st Artist Magazine, was published and now selling in Chapters and Indigo.
This Artist Magazine, includes Lynda as one of 30 chosen throughout Canada, for this incredible milestone released on International Artist Day of 2021.
The artist has built a strong portfolio-following and collector base, with collections hanging in schools, businesses and the private sector throughout Canada, U.S.A and Europe.
With many followers and supporters on and off social media, Lynda continually expands her portfolio while studying her love of wildlife in nature near her Southern Ontario home, emphasizing the spectacular bird migration which occurs twice each year. In the spring & fall, many species travel through and stop to rest in the area and Lynda likes to venture outdoors and see them in person. Taking time to get to get to know each of the subjects she paints. Many sketches are done in the field,  and then brought back to her studio to complete a composition and painting in detail.
One of the artists loves, is to make the trek to Northern Ontario, to Algonquin Park and the Haliburton Highlands where her ancestors settled from Ireland.
Moffatt finds that her soul feels rejuvenated after visiting this area and paintings of landscapes and wildlife continue to be inspired for her ongoing Algonquin Series.
Lynda's work is represented by Roam Gallery of BC/Ontario, Rail's End Gallery Haliburton, Ontario and Xanadu Gallery, Scottsdale, Arizona.
Lynda is a participating member with several art associations including: National Oil and Acrylic Painters' Society; East Central Ontario Arts Association; Haliburton Arts Society; Collingwood Arts Society; Federation of Canadian Artists; Arts Society of Kingsville and International Plein Air Painters.
Participating in local community art programs including, being appointed as a juror for the Chatham-Kent Art House Project and
 taking on the role of Web Master for the Arts Society of Kingsville.
 Lynda continues to improve her skills, while helping others who need support or guidance in the arts community.